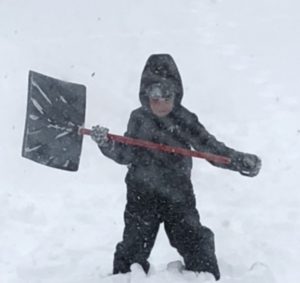 Bombogenesis. In all of my long suffering winters as a native Bostonian, I have never heard this term. Blizzard? Sure. Snowpocalypse? Yup. But bombogenesis? Yikes.
Hearing the panic-stricken weather forecasters screech "bombogenesis" on repeat meant one thing in my world: Snow day. Any weather pattern that starts with "bomb" and has a biblical reference is snow day worthy. I instinctively knew there would be more than one.
Here's what's tumbling around in my mind (at the pace the kids' snow clothes are in my dryer) on snow day, take two:
1. Are my husband and I the worst parents ever pretending like we did not know there was a second snow day last night? Our school called it early: 7:00 p.m. We could have shared this news with our boys, joined in on their happy dances, and let them party it up until they collapsed from exhaustion. Instead, we maintained a united, deceitful front so we could get them in bed at a semi decent time and decompress by the fire. Are we headed straight for hell?
2. The snow plow comes precisely when we are trying to put our boys to bed. It never fails. Beep. Beep. Beep. BEEP!
3. The snow plow sets our normally docile dog off, forcing us to try to put the kids to sleep to an unforgiving and unrelenting soundtrack. It's the snow-plow-dog-losing-her-mind-barking-no-matter-how-many-treats-I-try-to-bribe-her-with remix!
4. Kids have a sixth snow day sense. Mine didn't believe for one minute there would be school in the morning and worked us for a 10:00 p.m. bedtime despite all of our devilish planning. Epic fail.
5. My husband has been on dog duty during bombogenesis, braving the blustery frozen tundra to try to get Adara, our stubborn, four-legged Southern belle, to drop a deuce in a monstrously intimidating snow bank. He's also the one to shovel, grab sleds from the garage, and tend to the fire. I feel slightly guilty about this but quickly come up with rationalizations in my fucked up brain. Women are paid less. We birth babies and our bellies never fully recover (unless we happen to be annoying genetically blessed bitches or members of the 90210 zip code). We generally deal with the majority of kid meltdowns. You get my point. So, because I'm likely paid .80 on the dollar, disgustingly, and deal with lots of other unfair shit (periods, cat calls from construction workers, bras, kid anarchy, etc. etc. etc.), I can sit and chill while he does some of this manly stuff guilt-free. (I am with a guy who wouldn't let me do it anyway…too chivalrous…but I'm sharing the intricacies of my mind here.)
6. I consider a full day spent in pajamas a personal victory in my overscheduled life. Two days would be legendary. (It's not happening.)
7. Snowstorm worthy snacks are a must. Really, being snowed in with your family is no time to adhere to your New Year's diet. You can only take so much.
8. Snow gear is infinitely annoying. I find it hanging on doors, by heaters, on floors. A glove is always missing. Gloves must have torrid affairs with stray socks. Just sayin'.
9. Snow day photo ops are the best. I love the bright pink cheeks, the cheesy ear-to-ear smiles, the excitement in their eyes. Really, there's nothing like a snow day as a kid. I find myself reminiscing about snow days from my childhood in-between endless hot cocoa requests.
10. Flickering lights in my home cue the "Jaws" music in my head. Every. Single. Time.
11. Maintaining power during bombogenesis gives me the urge to dot the "i" in my name with a heart when I sign the check to pay my electric bill this month. Snow days are long enough with power. Without it? Aaaaaahhhhhhhhh!
12. Does alcohol taste better on snow days? I say yes. Cheers!
What are your thoughts on dealing with snow days as a parent?
You can read more of Jodi Meltzer Darter's musings about life on her website, Facebook, and Twitter @mommydish.