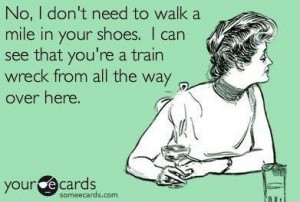 Nineteen more days. That's all the time I have left as a SAHM. I am ripe and ready to fess up about the past two years, don't you think?
– I use my sunglasses as a headband on bad hair days.
– I like to play a game I call, "Invent an Errand" when Alex gets pissy.
– If he's kicking my a$$ and screaming while I try to wrestle him into his car seat to go on the fake errand, I look forward to shutting his door. I thoroughly enjoy the 30 seconds of muffled cries as I slowly walk around to my side of the car.
– My internal dialogue has an R-rating–on my good days.
– I freaking hate housework.
– I stuffed my washing machine with so many towels that it began to smoke and set off the fire alarm. I tried to cover the burnt rubber smell with spray, but the flowery burnt rubber smell was even worse. Alex walked around screaming, "P-U!" for a good hour as I openly begged the laundry G-ds for mercy (it magically healed itself without the $100 an hour service call).
– Mommies who like housework must take happy pills my doctor will not prescribe.
– That said, I am super-fast at surface-cleaning my house ten minutes before my husband comes home in a lame attempt to make him think I've got it all together.
– I don't have it all together–and I can't stand those who pretend they do.
– I just met a Mommy at the playground who said, "I hope your son hurts my Type A bully kid so she can see what it feels like. Let's not supervise them, okay?" I instantly liked her.
– I lick the peanut butter knife.
– I've taken up online shopping. Uh-oh is right.
– There are days when I wish I could slam my door and blast my music just like my teenager.
– I've missed sick days.
– I adore nap time.
– Hate me if you want to, but I don't subscribe to the SAHM=sweatpants and no makeup.
– My son knows how to use an eyelash curler because he sees me do it every morning. That's quality mothering right there.
– I will never make peace with the after-effects of my C-section.
– I always feel overwhelmed with things to do.
– Sometimes I can't believe the sh*t that comes out of my son's a$$. Immature, I know. But it's true.
– When he throws food at the table, I have to resist the urge to throw it right back at him.
– There are moments when I look at my son, and I still can't believe I made him (with hubby's help, of course).
– Being a SAHM has been the toughest job, but I have loved it. I have never laughed so much!
– Alex James, I'll always cherish every second we've had, just me and you, and I look forward to being your co-pilot as you take flight, my precious baby boy. I love you beyond measure, to infinity and beyond, and am so proud of you I feel like I could burst.
Feel free to add your own confessions in the comments section. It's liberating, let me tell you. And, while you're at it, please give me a click. Thanks!