I love Grammys. Not the little gold statues awarded to musicians (I am not one of those award show junkies)…the good-as-gold Grammys awarded to overtired parents.
Last weekend, we schlepped a pack and play, stroller, umbrella, float, and beach cart full of sunscreen, outfits, bibs, diapers, wipes, toys, snacks, meals, and drinks for an exhausting two-hour stint at the beach. My son had major Daddy separation anxiety and would deliver his piercing Howard Dean/Sam Kinison/80s hair band scream anytime he left his side. Add the gale force winds that kept knocking the umbrella over, a two-mile hike to the water due to ridiculous overcrowding, and a damn pail that sprang a leak just when Alex started enjoying himself at a normal decibel level, and it was bad. Really, really bad.
And then we had to endure a  two-hour drive home in bumper-to-bumper traffic. Fun, fun.
Today, we walked out of our room and on to the beach, carrying just our keys, books, and iPhones (for baby check-ins). Hands-free, we accepted our freshly laundered beach towels, pointed to where we wanted our umbrella and chairs set up, and laid there–for hours. We swam in the bath warm ocean, took a dip in the infinity pool, and played footsies in the powder soft sand. We indulged in hand-delivered fruity cocktails, took a long stroll under a cloudless sky, splurged on a scrumptious dinner, and watched an unforgettable sunset to the soothing soundtrack of boats rocking in the calm water. It was a picture perfect 24-hour Cape Cod getaway.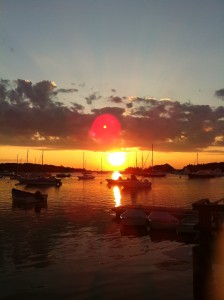 Besides my annoying oversized sunglasses tan line (I am, as always, a slave to accessories), I am so content. My house is clean, my baby is sleeping soundly in his crib, and I feel recharged and ready for my 6:00 a.m. (6:30 a.m. if I am lucky) wake-up call. Life's indeed a beach…when you have Grammys.