Am I the only Mommy who knows she's a total buzzkill?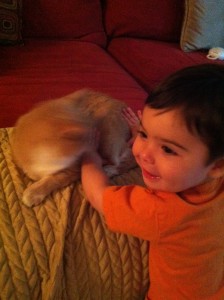 Hide-and-seek under the new curtains? We don't do that, Alex. Bust a move in the bathtub? We don't do that, Alex. Yank the tail of the unsuspecting family cat with anger management issues? We don't do that, Alex.
Boy, oh boy, do I wish I could say the word "NO!" But we don't do that.
It's hard being Mommy Downer with a "no" handicap.
Alex understood the word "no" early on. He listened at first, and I always praised him for not biting an electrical cord, shattering our flat-screen, or yanking my earring through my flesh. But then he adopted this little sh*t eating grin especially reserved for "no" occasions. He'd make eye contact, smirk defiantly, and ignore me altogether. "No" for him was like a gym membership for me–easy to overlook.
So, I consulted my Mommy Mavens, read several Internet articles, dusted off some baby books…and decided to eliminate the word "no." Was it easy to do? No, no, no, no, no. Like an addict, I've relapsed quite a bit. Mostly, I substitute we don't do that for "no", and explain why we don't do that, but it's a constant challenge. It's like choosing a frozen Lean Cuisine pizza over a fresh Neapolitan pizza over and over and over again. Sure, we don't do that provides the substance needed, but it's not nearly as satisfying as "no."
Reasoning with a toddler, showing him empathy, and delivering the "no" message in a we don't do that sort of way is the route to take, I am told. A "no" free zone–except for extreme emergencies–ensures the word carries weight when it's needed, and helps protect Mommies from toddlers who adopt "no" as their favorite word. Am I right about this one? I'd welcome a "no" if it means I could start saying it again!
Here's one dish you will not want to say "no" to: Vegetarian Stuffed Peppers. They're incredibly healthy–stuffed with protein-packed quinoa and a medley of fresh vegetables–and hearty enough for a meal. Both of my boys loved them. Yes!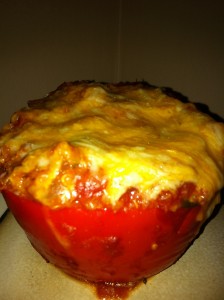 Vegetarian Stuffed Peppers
Ingredients
1 cup quinoa
2 cups water
4 large red or green peppers (I prefer red)
1 zucchini, grated
1 package pre-sliced mushrooms, chopped
1 onion, chopped
2 garlic cloves, minced
1 28-ounce can of crushed tomatoes with basil
1 teaspoon Italian seasoning
1 palmful of Parmesan cheese
About 2 cups shredded mozzarella and cheddar cheese
EVOO
Salt and pepper, to taste
Preheat oven to 325 degrees. Cook quinoa according to package directions. Steam hollowed out peppers in salted water until soft (but not overcooked!), and set aside.
Coat a large saute pan with EVOO, and cook onion, garlic, mushrooms, and zucchini until vegetables soften and onion turns translucent–about 10 minutes. Add Italian seasoning and a little more than half the can of tomatoes. Fold in quinoa. Toss in a hearty handful of Parmesan, and season generously with salt and pepper.
Cover the bottom of a baking pan with some of the remaining crushed tomatoes, and thin it out with some water. Line peppers up and fill them with the vegetable/quinoa mixture. Drizzle the top with more crushed tomatoes, and bake until almost done–about 45 minutes. Take them out of the oven, cover the tops with mozzarella and cheddar cheese, and return to the oven until melted. Serve immediately.