This weekend was a memorable one. I did something ballsy. And crazy. And thrilling.
Ballsy: I cut the cord. Not in a creepy January Jones type of way, more in a I-can't-leave-my-beloved-son-for-any-real-length-of-time-unless-I-am-forced-to kind of way.
Crazy: I surprised my husband who doesn't like surprises. Really, he doesn't…it was a risk. Trust me on this one.
Thrilling: I spent money a SAHM shouldn't–with no hesitation, no guilt, no remorse. In fact, I felt like Julia Roberts in Pretty Woman when she went back to that snobby boutique with Richard Gere's credit card in hand. Yeah, b*tch, I've got this covered. Uh-huh.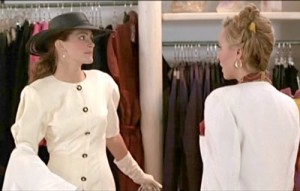 I am not going to lie…it was scary. Actually, exhilerating is more like it. I got the same rush when I bungee jumped half over water and half over concrete in Cancun back in the 90s, only this time I didn't have to sign a 12-page waiver and hand my jewelry over to my BFF for safe-keeping in the event of my untimely demise. I am a Mommy now…I need to get my kicks without a cord wrapped around my ankles.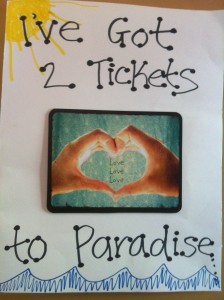 My husband returned home from work on Friday to a giant card I made while Alex flung portions of his dinner at me in protest because I wasn't paying total attention to him. I am artistic–this isn't the best I could do by any means–but it was all I could muster sans a splatter of spaghetti sauce or an epic meltdown. Whatever…disclaimer aside…the card wasn't awesome, but what it said was (if I do say so myself).
It read, "I've got two tickets to paradise. Won't you pack your bags and leave July 10th? Love, your wife." Plus all sorts of other stuff I can't dish about because my stepdaughter reads this blog and will be grossed out.
Seriously, I deserve something freaking fantastic for pulling off this surprise, don't you think?
Thanks to your encouragement and suggestions (comments, emails, Facebook posts), I booked us a trip to Puerto Rico! Four days, three nights…completely kid-free. It will truly be our first real vacation, as my stepdaughter will be at camp and have no access to her cellphone (she fired off tons of texts to us on our honeymoon), and Alex, well, he'll be out of luck because we won't be in yelling distance. We will check in on the tag-team of grandmothers lovingly caring for him when it's convenient for us (knowing me, it'll be convenient a lot of time, but I am trying to act like I won't stalk them right now…just go with it). And my husband was genuinely happy…I made his day, and gave him something to look forward to besides paying bills, wiping a$$, and chauferring teenagers (thanks for all you do, Scott! xo).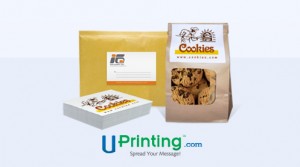 To mark my exciting weekend, I am giving you something to get excited about: a cool freebie from UPrinting.com! One Mommy Dish reader will receive 250 2″ x 3.5″ custom stickers. Use them for your side business, kids' camp stuff, address labels, whatever! Click here to enter!
Oh, and while you're clicking, give me a click please. You can do it! Click the brown box…

Another disclaimer: You should assume that I will receive free print products in exchange for the post. Any and all reviews posted are based solely on my own experience and may be atypical. Please practice due diligence in making any related purchase decisions.