I know the anticipation is killing you. Really, how did you even make it through your week without knowing the winner of Mommy Dish's Super Bowl Swap, Part Deux? I teased you with the relentlessness of an obnoxious older sibling, telling you that you'd find out yesterday. I am so sorry…yet another toddler and/or teen plague kept me from my keyboard (freaking hate mean old man winter, as you know).
No fear now…I am here to put you out of your misery. Official sunshine spreader of the stroller set. Yup, that's me (so what if my sun radiates sarcasm?).
The Super Bowl, Part Deux bragging rights go to……………Ann for her delectable Crab Dip! Congratulations! And thank you to all who submitted your recipes in this contest and in the past. I am so grateful you share your family dishes with me!
As a bonus, I am passing along Chef Julie's Shrimp Cocktail for all of you who plan on whipping up that guaranteed crowd pleaser tomorrow. It's a two-for-one… and this time, I promise, no teasing. Go Patriots!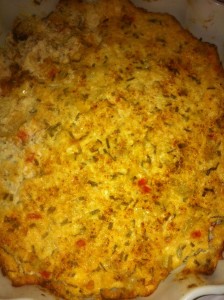 Crab Dip
Ingredients
1 pound jumbo lump crab
1 cup pepper jack cheese, grated
3/4 cup mayonaise
1/4 cup Parmesan cheese
1/4 cup scallions, chopped
3 garlic cloves, finely minced
3 tablespoons Worcestershire sauce
1-2 teaspoons hot sauce, to taste
1/2 teaspoon mustard
Salt and pepper, to taste
Method
Break up crab meat into smaller pieces and mix it with all of the above ingredients.  Butter or spray a baking dish (she uses a smaller quiche dish) and put the mixture into the dish.  Bake at 325 degrees for about 40 minutes or until hot.  Serve immediately with sliced French baguette, buttery crackers, bagel chips or a combination of all of them.
Chef Julie's Shrimp Cocktail
Shrimp Ingredients
1 pound of shrimp, peeled and deveined
2 carrots, rough chop
3 stalks of celery, rough chop
1 white onion, rough chop
2 lemons, quartered
1 pinch of peppercorns
3-4 bay leaves
1/4 cup white wine
3-4 tablespoons salt
Water
1 ice bath, prepared
Method
Fill a spaghetti pot about 3/4 full, add all of the ingredients, and bring to a boil. Reduce heat to medium high, so there's action in the water but not boiling, and simmer for a half hour. Discard all of the chunks of vegetables, etc. Add shrimp and cook about three minutes or until done (they cook quick–if you take one out and it feels firm, it's ready to go into the ice bath; if it's mushy it needs another minute or so). Transfer shrimp into the ice bath to stop the cooking process.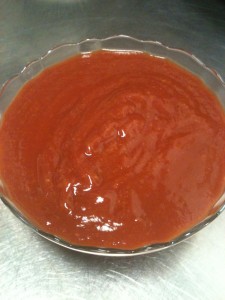 Cocktail Sauce Ingredients
1/2 cup chili sauce
1/2 cup ketchup
3 tablespoons prepared horseradish
2 teaspoons fresh lemon juice
1/2 teaspoon Worcestershire sauce
1/4 teaspoon hot sauce–or more, to taste
Salt and pepper, to taste
Method
Combine all of the ingredients together in a bowl, and serve alongside the shrimp. Enjoy!