Now that I spend most of my time wiping butt and swearing under my breath at a certain toddler/teenager duo molding my precious children into becoming productive members of society, it really doesn't take much to make me smile. You don't believe me? Take a look at my giddy list that proves I seriously need to get a life I've somehow morphed into a simple girl (who happens to adore Tory Burch shoes–send 'em my way if you're reading, Tory ; ).
– I get really jazzed about pulling a load of warm towels out of the dryer. It's almost like Christmas in laundry land. Isn't it pathetic I am so thrilled about towels? What the hell happened to me? Am I delusional from constantly folding a 2T wardrobe? Or just high from the fumes of trying to get stains out every little thing (including my teen's white stuff that "mysteriously" turn pink). What is it? Because, truly, I am like, "yessssssss!" when I get to just fold towels. It takes two seconds to get through this particular chore and I get such satisfaction stacking them neatly in the linen closet (they stay that way for less than 24-hours because I live with a house full of ruthless riflers, but whatever).
OMG. Why do I feel compelled to confess this sh*t?
– I enjoy being carded…I admitted that to myself and the entire liquor store when it happened yesterday. It doesn't matter if the clerk does it because I look like the type of girl who really wants to be questioned about being 21 (did he detect the desperate plea in my eyes?). I can't whip my ID out of my Costanza wallet fast enough (along with a random receipt to Babies R Us, a gum wrapper, and lip gloss…nothing ever comes out solo). He made it even better when he said, "Wow, I can't believe you're 39!" with genuine enthusiasm. I almost bought a case of Mommyjuice just to reward him for making me feel like I've got it going on, but then I remembered he doesn't work on commission and I might not work with a case in hand. Who cares if the clerk's a raging alcoholic downing nips behind the cash register? He carded a woman closing in on 40–and pretended he was just doing his job. Yes sir, you make me ecstatic.
-I love the effect an ice cream cone has on an almost-2-year-old. Despite the mess, and stickiness, and inevitable drop in the dirt that results in an inquisitive look (best case) or a river of tears, it's just awesome. In yet another sign Mother Nature has lost her marbles (or bought the case of Mommyjuice I passed on at the liquor store), it was 90-degrees in Boston today. Scott and I took Alex to get the good stuff, and killed an hour eating it. An hour closer to bedtime and a bonus cone for Mommy? Bliss.
-I cheat on my family with my iPhone. Daily. Repeatedly. And it feels intoxicatingly good. I escape to tap into my inner voyeur on Facebook, text my friends who are equally exhausted, and check my email, hoping for something good (i.e. a coupon that provides me with an excuse to shop…uh, Tory, wink wink). It gives me more joy than that little device should. Do you stray for a few minutes on your smartphone or what?
– Girls' nights are invigorating. I've neglected them for too long, and I really shouldn't because they make me laugh. And drink. And I am very merry when I am surrounded by women who have a hilarious way of telling it like it is. Plus, it gives me an excuse to ignore my holy sh*t summer's here! diet with gourmet macaroni-and-cheese with tomatoes. Yum. Life is good when you set aside some time for the girls.
What are life's little pleasures that make you happy?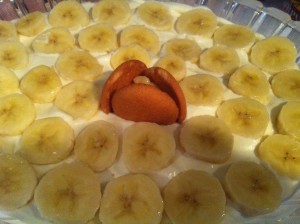 Easy, Refreshing Banana Pudding
***Always a crowd pleaser, this dish is adapted from the tried-and-true Nilla recipe, with slight adjustments. It's incredibly easy, delicious, and requires little thought…yeah, that makes me happy.***
Ingredients
1 small box of jello banana instant pudding
2 cups milk
1 container of Whipping Cream (Mommy Dish note: I always prefer to make my own whipped cream, but you can use Cool Whip if you're so inclined)
Confectioner's Sugar to sweeten the Whipping Cream (to taste–just try it–at least two tablespoons)
1 box Nilla wafers (I won't substitute brand)
4-6 bananas cut in slices (depending on the size of your trifle dish)
Method
Prepare the banana pudding according to package directions (combining the mix with 2 cups of milk), and set aside.
Beat whipping cream with Confectioner's sugar until it turns into whipped cream. Combine with the banana pudding.
In a trifle dish, assemble a layer of Nilla wafers. Cover Nilla wafers with a layer of the banana pudding/whipped cream mixture, and then place a layer of sliced bananas on top. Repeat. Top dish with bananas or Nilla wafers or both–be creative!
Put it in the fridge for at least three hours (more if you can hold off) to allow time for the Nilla wafers to soften and flavors to combine. Enjoy!