insane
…everyone, except for me. All's good in my little
warped
world.
Let me give you the low-down…
Anal-retentive: I typed up a five-page guide to caring for Alex James in my absence for my Mom and Mom-in-law. Five pages…typed and double-spaced, submitted to them last night via email, hand-delivered in print today, and hung on my refrigerator this evening. Just in case there's any confusion for women who have both raised two children and know my little guy pretty well, too. Why wasn't I this meticulous in High School? I couldn't even remember my No. 2 pencil back then.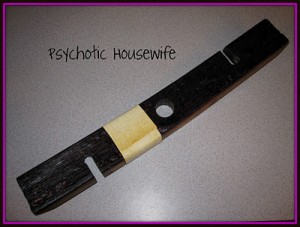 In addition to my missive, I have reorganized all of my kitchen cabinets, done tons of laundry, re-folded all of Alex's clothes in his drawers, re-stocked all of his butt-changing necessities, pre-packed his bags for camp, changed the sheets, and emptied out aisles at Whole Foods and CVS.
I am also stalking the resort I booked, calling and asking questions in different voices (they've probably put a big fat asterisk next to my reservation and/or have the restraints ready for my arrival), based on my new obsession with reading Trip Advisor reviews. While most of the reviews are amazing, I've called a few dozen times following up on complaints from strangers. Yes, I am busy, but I can squeeze these crazy calls in whenever the mood (or my insomnia) strikes, as they answer 24/7.
Greasy-haired: It's been smack-yourself-in-the-face humid here, the type of weather that gives me a frizzy 'fro the moment I walk out the door. I don't know if it's part of my ongoing post-pregnancy curse (my hands have been asleep for two years, my stomach refuses to flatten), but I have nicknamed my hair Sybil this summer. I've been walking around with my sunglasses on top of my head, trying to rock the insta-perm look, but it's not working. So, I decided to get a formaldahyde-free Brazilian Blowout. The only problem with the natural version of the real thing is that it takes four days to sink in. I can't put my hair up or wear a hat to cover up my greasy goodness because it may leave a crease while the magic potion takes its time doing its thing. I am on day three of no shampoo and, let me tell you, I am looking fine. F-I-N-E.
Prom queen: It's a toss up, really…a prom queen, or a bride-to be…but my behavior is borderline diva. I have gotten a mani/pedi, eyebrow and bikini waxes (at different places…you don't sh*t where you eat, right?), teeth whitening, and a spray-tan application. I've traveled near and far to find bathing suits that make me look like I didn't inhale enjoy pasta tonight, purchased new outfits and tailored old ones, and visited makeup counters for waterproof everything. No raccoon eyes for me as I emerge from the ocean with my hair slicked back a la Bo Derek. That's not in the fantasy!
Southern belle twist: All of my primping and pampering has put me in a position where I am Katie Holmes and water is my temporary Tom Cruise. If I submerge myself in water, I will, in fact, melt. My perfectly-straight-hair-as-of-tomorrow will frizz, and my fake tan will fade. Basically, I eff myself over if I play with Alex in his kiddie pool, splash beside him at his water table, or give him a bath. I have become one of those proper southern belles who serves lemonade while her guests have fun frolicking in the pool. All I am missing is one of those hand fans (give me time–I don't leave until Tuesday morning). It's comical, the way I am acting. I am going away for four days. I just had to tell you what a fool I am making of myself in the hopes you have some insight into my anal-retentive, greasy-haired prom queen with a southern belle twist behavior.
After reading this, I bet you could use some refreshing lemonade! Go ahead, make yourself a glass, and please give me a click while you're at it (click the brown box–that's it!):

Old-Fashioned Lemonade

1 3/4 cups sugar (Mommy Dish note: lemonade is very personal–adjust sweetness and tartness to your liking–just use this method as a guide if you haven't made it before)
1 cup hot water
2 cups fresh lemon juice
1 gallon cold water
1 lemon, sliced

Method

In a 1 gallon container, place sugar and hot water, and stir until sugar dissolves. Add lemon juice and cold water to render 1 gallon. Stir until well mixed. Pour lemonade over glasses of ice, and garnish with a lemon slice.

Somehow, I've morphed into an anal-retentive, greasy-haired prom queen with a southern belle twist in anticipation of my departure to Puerto Rico. I am driving everyone